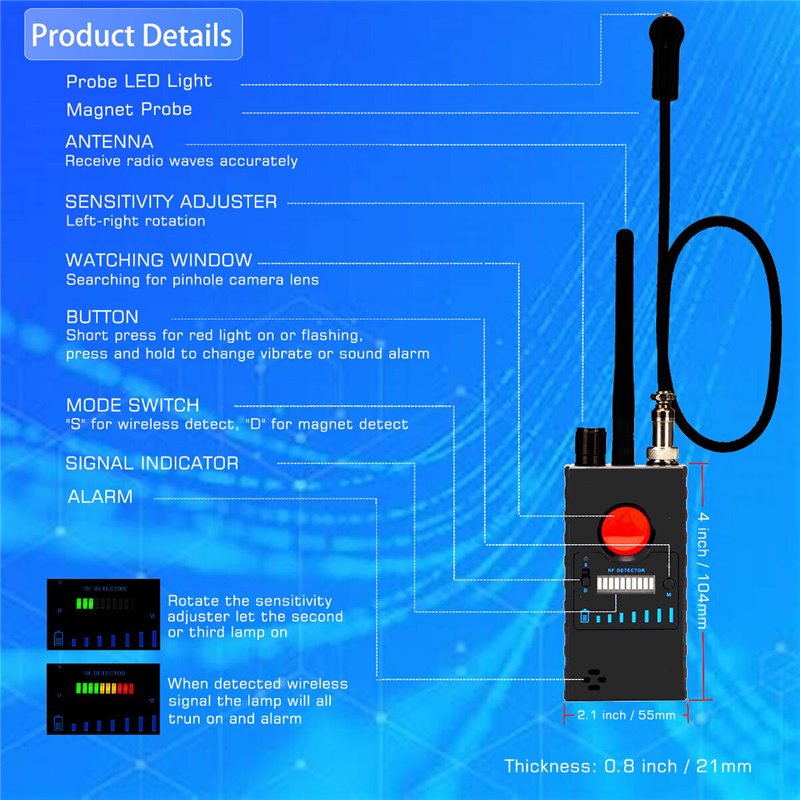  
Anti Spy RF Detector for Wireless Audio Bug Camera, Bug Detector, Camera Finder 6 Levels Sensitivity, 12H Working Time, Portable
Anti Spy Detector for Wireless Audio Bug Camera,Slim Hidden Spy Camera Finder
Security policy
(edit with the Customer Reassurance module)
Delivery policy
(edit with the Customer Reassurance module)
Return policy
(edit with the Customer Reassurance module)
Privacy safety: This hidden camera detectors can quickly and accurately detect eavesdropping devices, pinhole cameras, wired and wireless hidden cameras, GPS locators, etc., camera detector can effectively prevent your privacy from leaking.

Signal Detection: This bug detectors anti-spy detector can detect radio waves, 2G, 3G, 4G mobile signals, SIM card bug. It can accurately detect various eavesdropper radio frequencies, helping you trust the surrounding environment.It is easy to use, and has two alarm modes, sound vibration and LED indicator, which are accurate and reliable.

Ultra-sensitivity: RF signal detector uses an upgraded ultra-sensitive chip, and has 6 levels of sensitivity, allowing you to quickly and accurately find the signal source. The operation is simple, and the sensitivity can be adjusted according to actual needs with only one knob.

Multi-purpose: RF wireless signal detection, camera detection. When you are worried about your privacy leaks in public bathrooms, hotels, vacation rentals, AirBnB, locker rooms, recreation rooms, locker rooms, business meetings, school exams, our spy bug detector can help you feel safer.

Portable and durable: Small size, light weight, our rf scanner bug detector can be easily carried to various occasions, only a few buttons can be easily operated.Perfectly for home, office, travel, and etc.Long battery life, 8-12 hours of continuous work, no need to worry about battery replacement or frequent charging.
Are you concerned about your privacy?
Have your ever thought that your privacy has been leaked?
Nowadays more and more people are concerned about their privacy. If you suspect you are being monitored and you don't trust your environment, whether at home, hotel dressing room, bed room, bathroom, or even office, confidential meeting and so on. With our bug detector & camera finder, your privacy will never be leaked.
Ultra high sensitive chip
This anti spy detector can accurately detect 2G, 3G, 4G mobile signal and radio waves within 15 meters, can also detect the electronics devices.
Intensity display
With 6 cool LED lights, it can fastly and precisely locate the signal source. Can accurately detects the position of audio bug, voice recorder and GPS tracking device within a few minutes.
Parameters:
Frequency range: 300MHz-2700MHz
Detection dynamic range: >73db
Indication method:: Level 6 LED luminous indicator
Alarm indicator
Power supply: built-in 3.7V lithium battery
Operating current: 60mA
Continuous working: 8-12 hours
Detection sensitivity: <0.03mw
Detection range:
5.8G: 15 square meters (standard 10MW)
2.4G: 10 square meters (standard 10MW)
1.2G: 10 square meters (standard 10MW)
Mobile phone signal 2G/3G/4G: 15 square meters
Material: metal
No customer reviews for the moment.